Special items
⏵7 minute Exclusive Custom Video - 693 tk ( 99 tk per minute ) ⏵Lifetime WhatsApp - 998 tk ⏵Panties - 997 tk ⏵Cummed in panties or perfumed panties - 1499 tk
My Schedule
10 pm until 6 am GMT+3
Shy but twisted...
My name is Ivy, your new sex object :) I'm a shy and gentle girl that loves to get fucked long and hard, so I've bought a fuckmachine to fully satisfy me because none of the men I've met would do that. I love to be your toy and sex object, it makes me the happiest! I studied natural sciences and languages, fluent in English, and I am currently a student. My hobbies include drawing, painting landscapes, travelling, watching films (especially psychological and thrillers), yoga and reading nutrition books. I like swimming and I especially enjoy snorkeling, I would love to try scuba diving one day. I also wish to try skydiving and rock climbing. I love nature and I want to help stop climate change, so I am also vegan and I love cooking healthy and delicious food. I play the ukulele and would like to learn to play the piano.
Let's chat on Plasma Messenger
Would you like to talk + send photos and videos to each other even when I'm offline? Just download Plasma Messenger on your phone, click on the red P above my broadcast, scan my QR code with the Plasma app and let's chat!
My Fuckmachine Levels
Level 1 - Tip (1-14 tk): Gentle pleasure Level 2 - Tip (15-99 tk): Speeding up ooh that's the spot... Level 3 - Tip (100-499 tk): Fuck me harder! Level 4 - Tip (500-999 tk): OMG hard pounding Level 5 - Tip (1000-4999 tk): Squirt Level 6 - Tip (5000+ tk): 20 minute torture multiple squirt
Join my Fanclub and Get Exclusive Gifts!
♥ 11 Exclusive Videos + 18 Photo Sets ♥ Fresh Daily Exclusive Photos in My Timeline ♥ Free Spying on all of my Private Shows ♥ Free Custom Videos ♥ Special Badge in Chat ♥ VIP Status
Lush/Domi levels - when connected
♥ Durations and Intensity Levels ♥ ⏵ Tip 1-9 tk = 1 sec (Low vibrations) ⏵ Tip 10-24 tk = 10 sec (Low vibrations) ⏵ Tip 25-49 tk = 15 sec (Medium vibrations) ⏵ Tip 50-99 tk = 30 sec (Medium vibrations) ⏵ Tip 250-499 tk = 80 sec (High vibrations) ⏵ Tip 500-999 tk = 90 sec (Ultra high vibrations) ⏵ Tip 1000-4999 tk = 180 sec (Ultra high vibrations) ⏵ Tip 5000+ tk = 900 sec (Ultra high vibrations) ★ Special Levels ★ ⏵ Tip 202 = 20 seconds Wave Pattern ⏵ Tip 303 = 30 seconds Earthquake Pattern ⏵ Tip 505 = 50 seconds Fireworks pattern
Only for Fan Club subscribers

Only for Fan Club subscribers

Only for Registered Users

Only for Fan Club subscribers

Only for Fan Club subscribers

Only for Fan Club subscribers

Only for Fan Club subscribers

Only for Fan Club subscribers

Only for Fan Club subscribers

Only for Fan Club subscribers

Only for Fan Club subscribers

Only for Fan Club subscribers

Only for Fan Club subscribers

Only for Fan Club subscribers

Only for Fan Club subscribers

Only for Fan Club subscribers

Only for Fan Club subscribers

Only for Fan Club subscribers

Only for Fan Club subscribers

Only for Fan Club subscribers

Only for Fan Club subscribers

Only for Fan Club subscribers

Only for Fan Club subscribers

Only for Fan Club subscribers

Only for Fan Club subscribers
Videos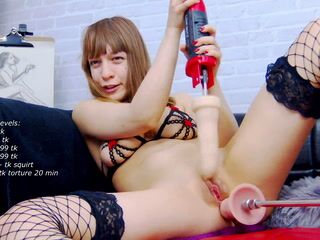 Only for Registered Users
00:07
Only for Fan Club subscribers
00:31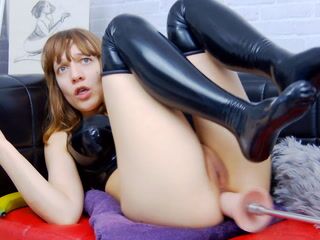 00:55
Latex Outfit + Super Fast Anal Machine
Only for Fan Club subscribers
01:15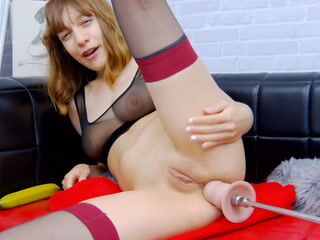 01:02
Mistress dominating you and denying your orgasm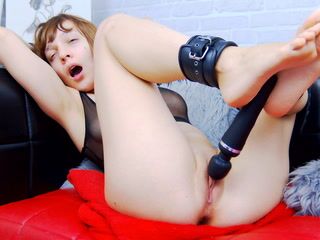 02:30
Orgasm in Bondage with Domi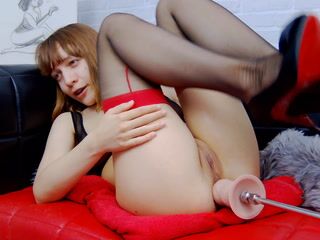 00:36
High Heels - Dildo in Ass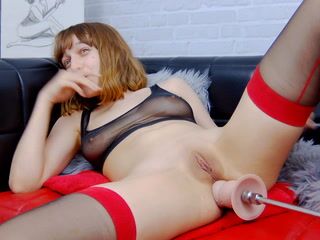 01:17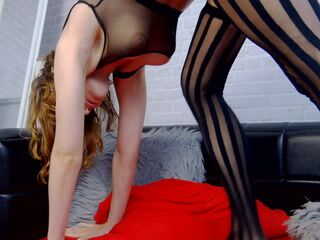 00:55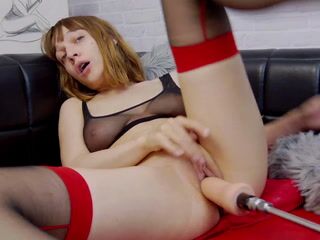 00:33
Pussy Fuckmachine Teasing
Only for Fan Club subscribers
00:36
Showing you my naked feet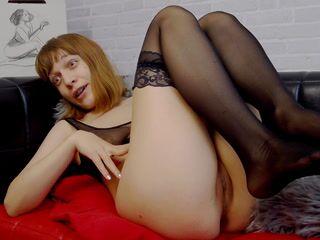 Only for Registered Users
00:32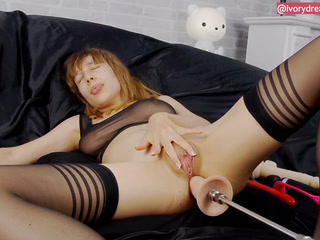 Only for Registered Users
00:04
Ass Fucked with Machine in Black Nylons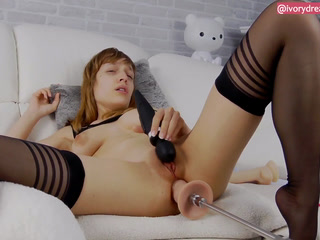 12:26
Long Anal Training Orgasm with Domi in Black Nylons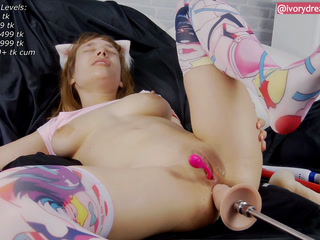 08:46
Catgirl Cumming Twice with Lush in Cunt, Anal Fuckmachine, Vibe on Clit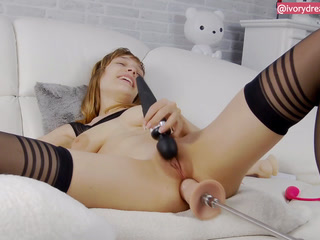 06:51
Cumming with Gentle Anal Fuckmachine in Black Nylons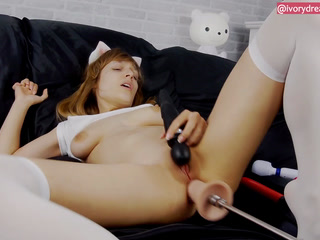 08:18
Catgirl in White Nylons - Anal Fuckmachine Orgasm with Domi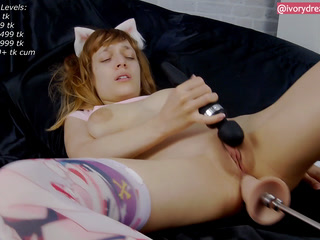 07:46
Hentai Catgirl Anal Fuckmachine Orgasm with Domi + Lush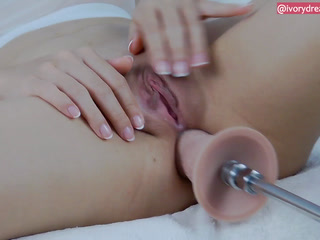 06:42
Close Up Wet Pussy Slapping and Fingering while Fucked in Ass with Mach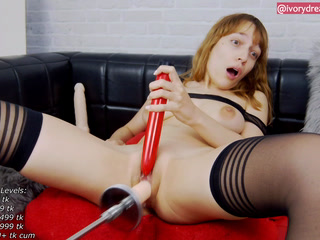 07:07
Super Speed Pussy Fuckmachine Orgasm + Vibrator in Black Nylons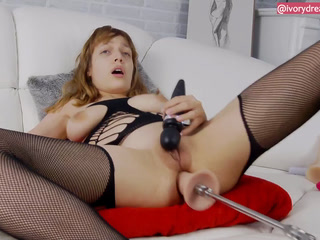 06:27
Mega Speed Anal Orgasm with Domi + Pussy Fingering - Black Mesh Bodys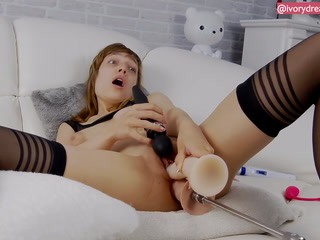 06:02
Double Penetration Orgasm with Dildo in Pussy, Anal Fuckmachine and Wan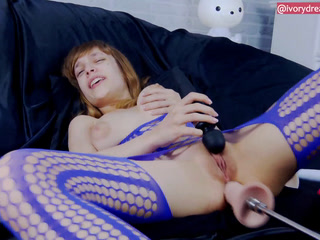 04:28
Machine Tortures my Ass while I Cum with Domi and Pinch Nipples
Only for Fan Club subscribers
03:35
Cumming with Domi while Pounded by Anal Fuckmachine - Purple Mesh Bodysuit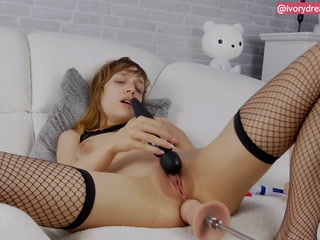 04:00
Mind Melting Orgasm with Anal Fuckmachine and Domi - Mesh Kneesocks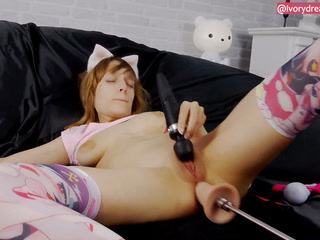 04:39
Neko Girl Intense Anal Orgasm with Fuckmachine and Domi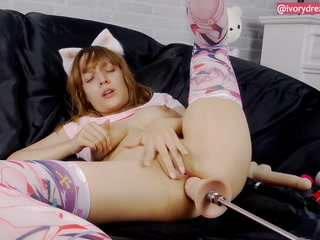 03:10
Slapping and Fingering Cunt + Anal Fuckmachine - Hentai Catgirl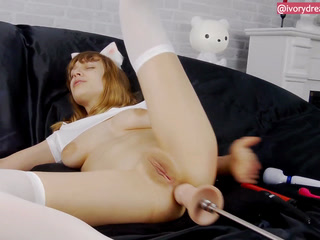 03:12
Spanking my Ass Pink + Pussy Fingering and Anal Fuckmachine - Catgirl in Whit
Only for Fan Club subscribers
03:20
Slapping, Fingering, Spreading Pussy + Anal Fuckmachine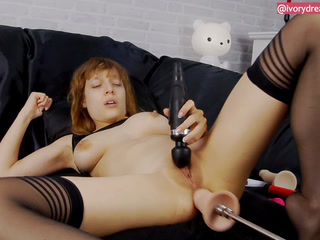 04:00
Domi Intense Orgasm + Anal Fuckmachine - Black Nylons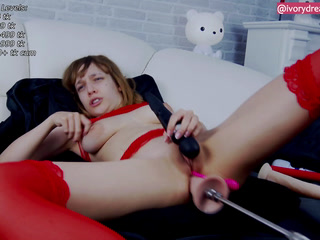 04:01
Anal Orgasm with Fuckmachine and Lush in Pussy - Red Nylons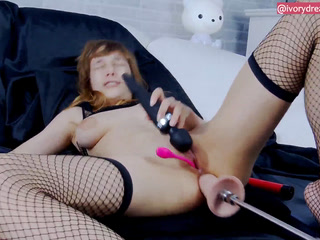 03:46
Wet Orgasm with Lush in Pussy and Anal Fuckmachine in Mesh Kneesocks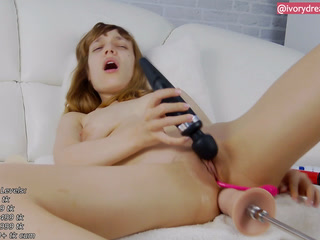 03:15
Naked Orgasm with Lush in Cunt and Anal Fuckmachine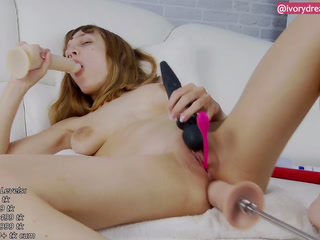 04:16
Creamy Orgasm with Blowjob, Lush in Pussy and Anal Fuckmachine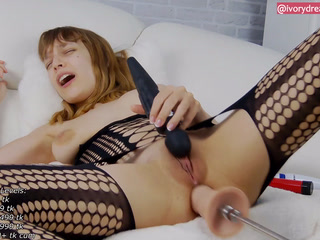 03:28
Anal Fuckmachine and Domi made me have a Wet Orgasm in Black Mesh Body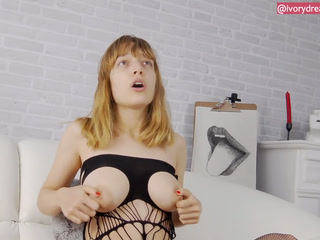 01:31
Fondling Tits and Pinching Nipples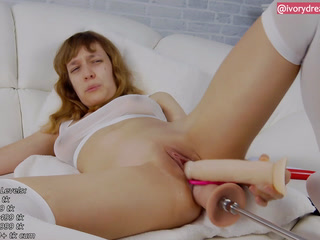 01:38
Double Penetration with Anal Fuckmachine+ Lush and Dildo in pussy made me Cre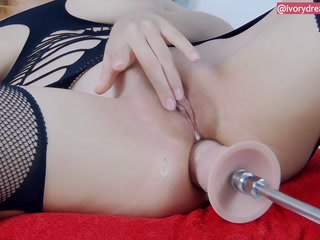 01:53
Creamy Pussy Close up + Anal Fuckmachine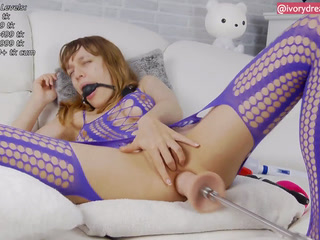 01:37
Ballgag, Torturing my Tits and Fingering Pussy with Anal Fuckmachine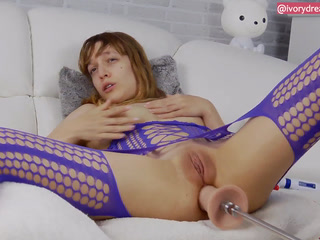 01:39
Slapping and Playing with Tits + Anal Fuckmachine
Only for Fan Club subscribers
02:48
Intense Orgasm in Red Mesh Bodysuit while Machine Fucks my Ass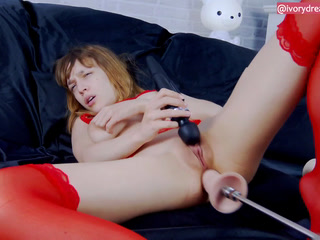 02:02
Hard Anal Cumming in Red Nylons with Fuckmachine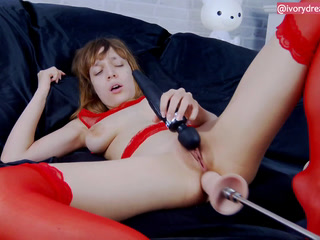 02:27
Playing with Tits and using Domi on Clit while Fucked Anally in Red Nylons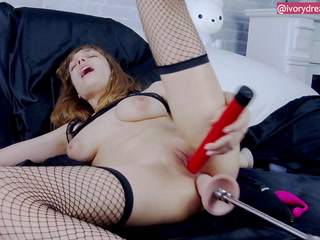 02:04
DP- Pinching Nipples and Fucking my Pussy with Big Vibrator while Machine Pou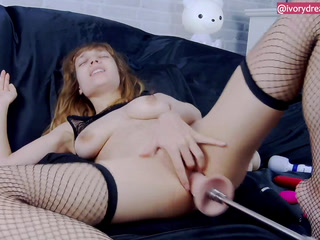 02:20
Cumming while Fingering Pussy and Getting Pounded in My Tiny Ass
Only for Fan Club subscribers
01:27
Close Up Lush on Pussy and Fingering while Anally Fucked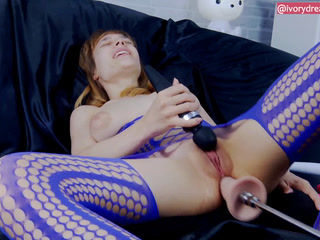 02:07
Intense Anal Orgasm with Domi and Naked Tits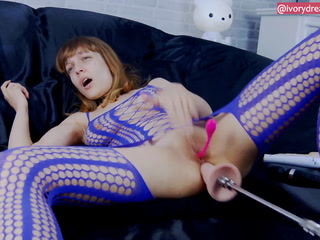 02:13
Putting Lush in Pussy and Fingering while Anally Fucked - Purple Bodysuit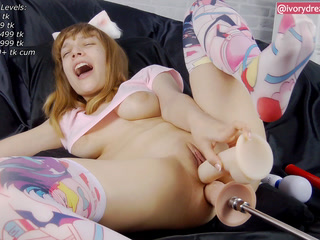 01:44
Hentai Catgirl DP - Trying to Fit Big Dildo in Pussy while Ass is Pounded by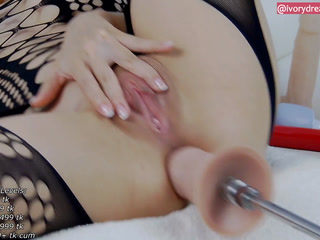 02:03
Creamy Pussy Close Up with Anal Fuckmachine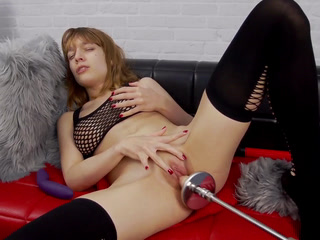 01:31
Smooth Pussy Pounding with Legs Up and Spread in Mesh Outfit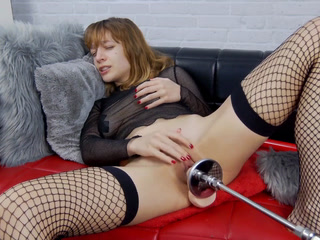 01:31
Fucking Sensitive Pussy with Machine - Nipple Pasties and Mesh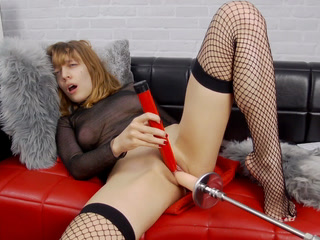 01:39
Huge Vibrator on Clit, Trying Not to Cum while Fucked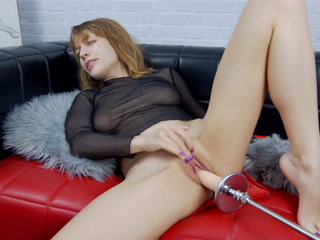 01:54
Pussy Fuckmachine while Rubbing Clit and Black Mesh Blouse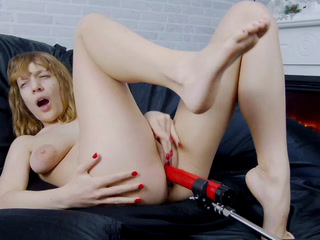 01:30
Naked showing Feet and Legs up while Fucked by Vibrator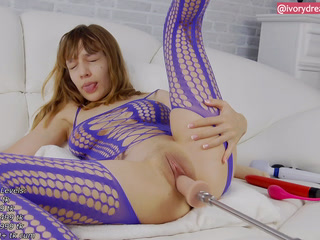 01:19
Pussy Fuckmachine and Clit Rubbing - Purple Mesh Bodysuit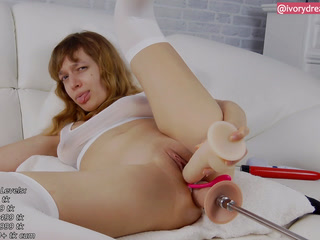 00:45
Double Penetration with Anal Fuckmachine and Dildo with Lush in pussy - White
Only for Fan Club subscribers
00:39
Ballgag + Spanking and Slapping my Pussy with Anal Fuckmachine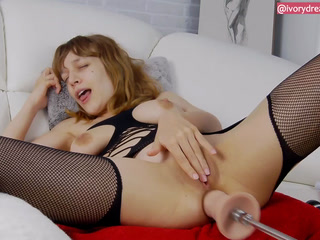 00:32
Pussy Slapping and Anal Fuckmachine with Black Mesh Bodysuit and Naked Boobs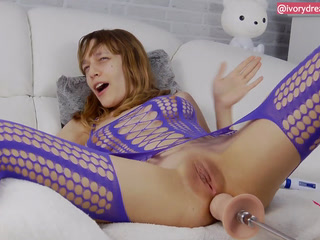 00:30
Slapping Tits while my Ass is Fucked by Machine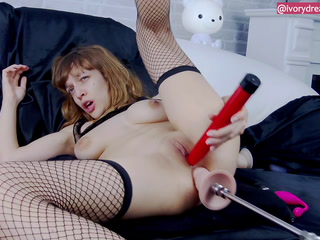 00:33
Double Penetration with Anal Fuckmachine and Vibrator in Black Mesh Outfit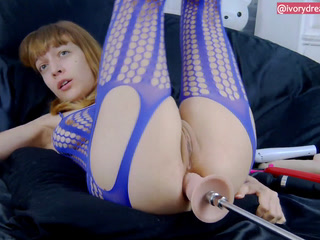 00:35
Spanking + Pussy Slapping + Anal Fuckmachine with Purple Bodysuit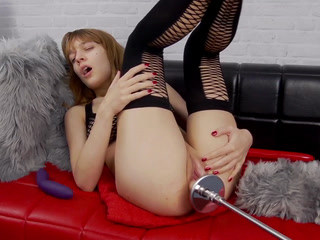 00:30
Legs Up Cunt Fucked in Black Mesh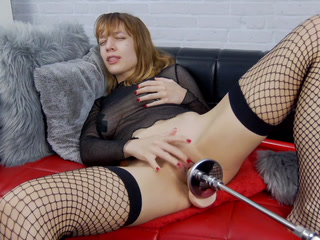 00:29
Nipple Pasties and Mesh with Pussy Fuckingmachine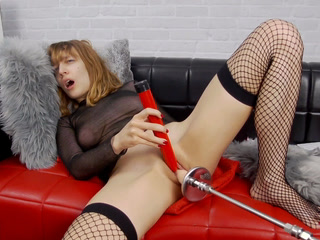 00:22
Gently Fucked by Machine with Vibrator on Clit -Black Mesh
Only for Fan Club subscribers
00:29
Black Mesh Outfit + Pussy Fuckmachine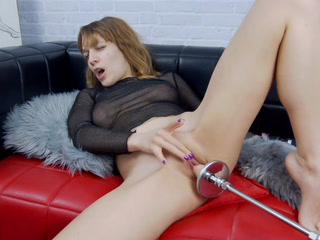 00:30
Pussy Fuckingmachine in Mesh Outfit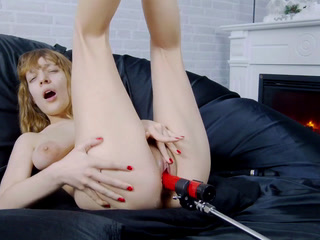 00:20
Fucked by Vibrator Machine while Naked
Only for Fan Club subscribers
00:34
Showing Legs in Nylon + Anal Fuckmachine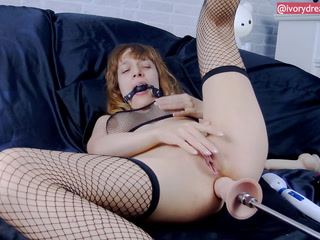 00:39
Ballgag- Slapping Pussy and Ass
Only for Fan Club subscribers
00:36
Fuckmachine pounds me in the ass while my pussy is slapped hard (master's wish)
Only for Fan Club subscribers
01:32
Anal fucking machine pleasure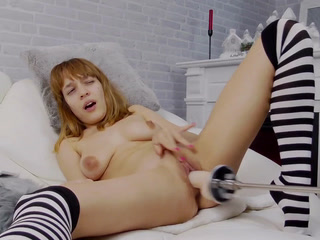 00:31
Intense teasing a wild zebra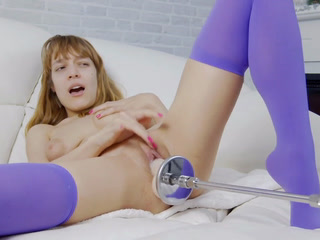 01:12
Soft pounding, gentle wet fucking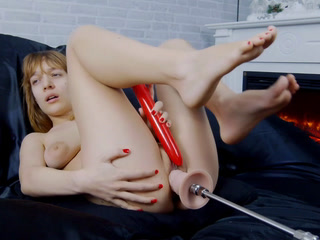 00:19
Anal fuck machine while teasing myself with big red
Only for Fan Club subscribers
00:25